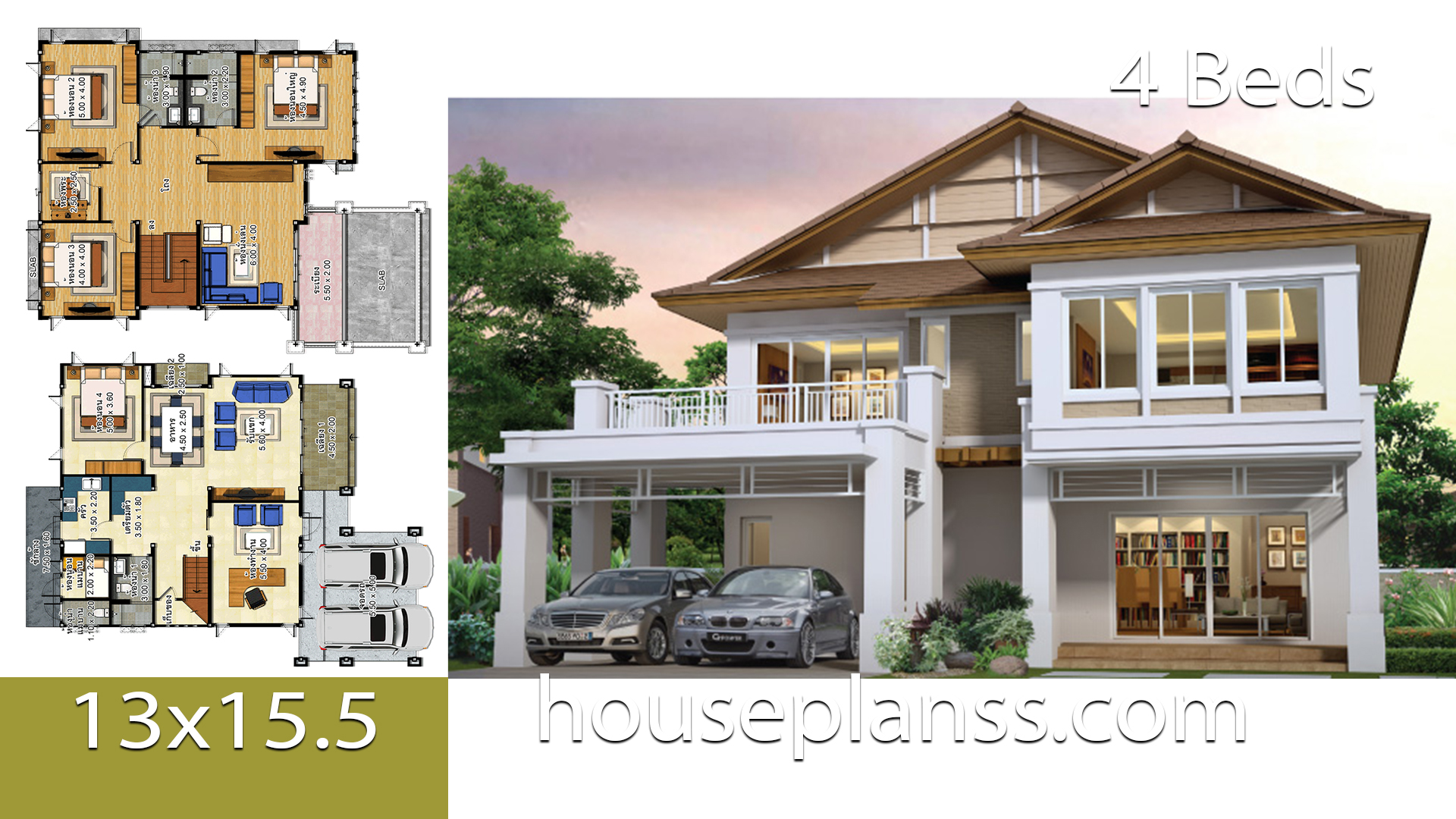 House design idea 13×15.5 with 4 bedrooms
Building size: 13.00 x 15.50
Land size (sq.m.): 17.00 x 19.50 m.
Land size (sq.wah): 82.75 sq.m.
Usable area: 305 sq.m.
4 bedrooms3 bathrooms
2 parking
Price: 8 – 10 million baht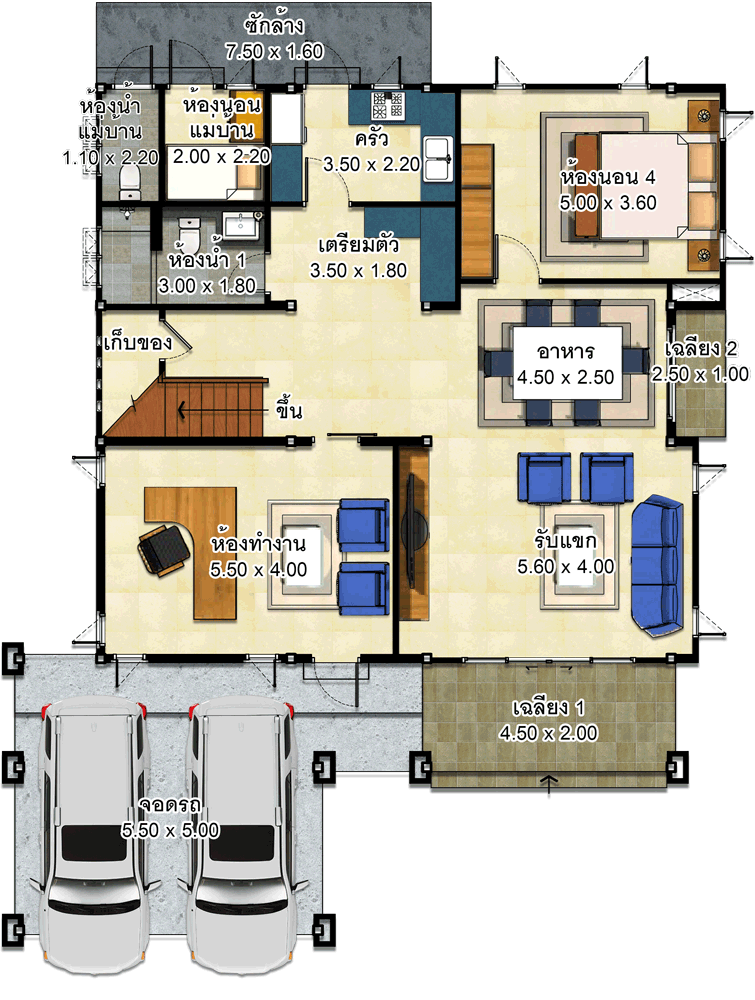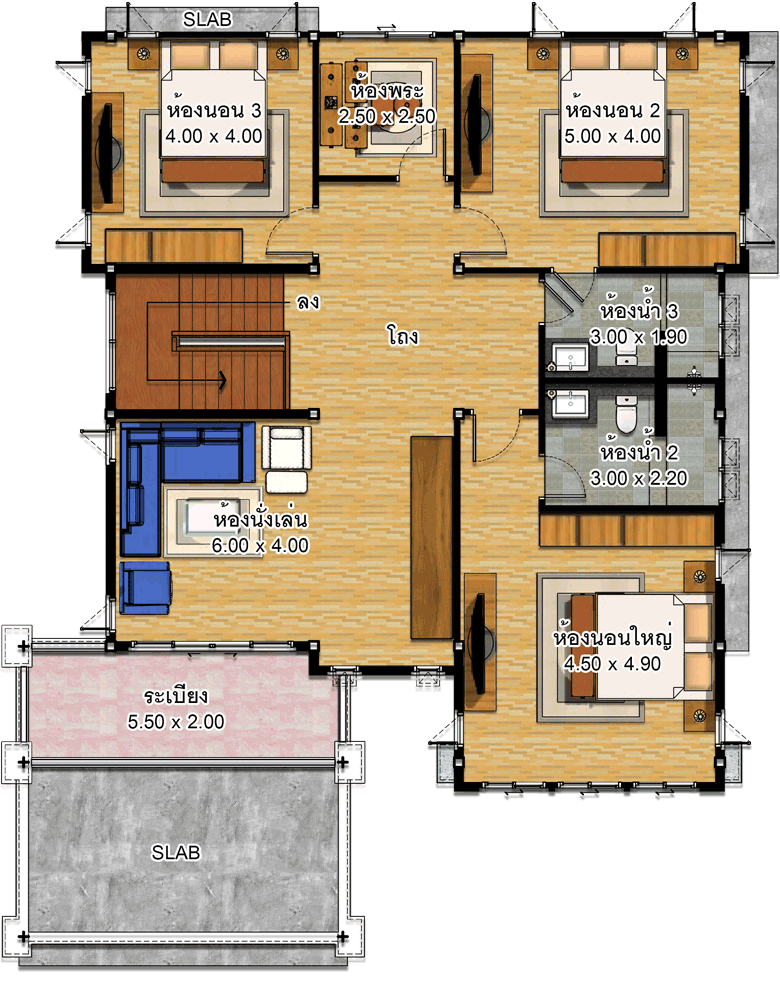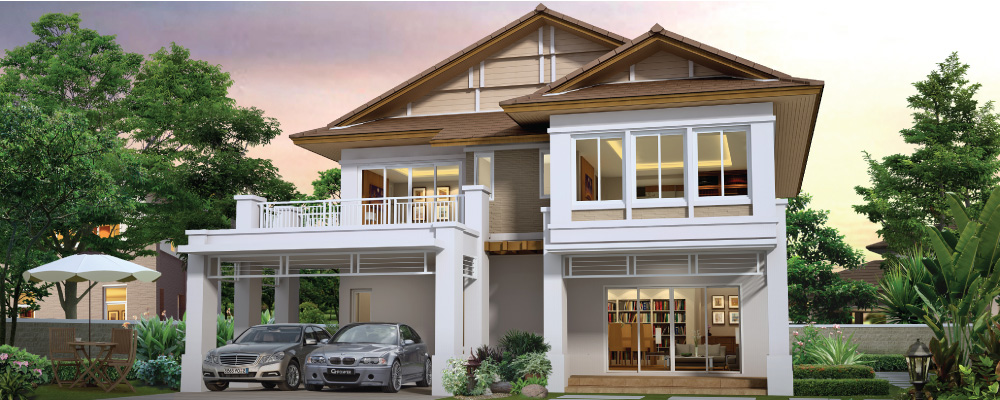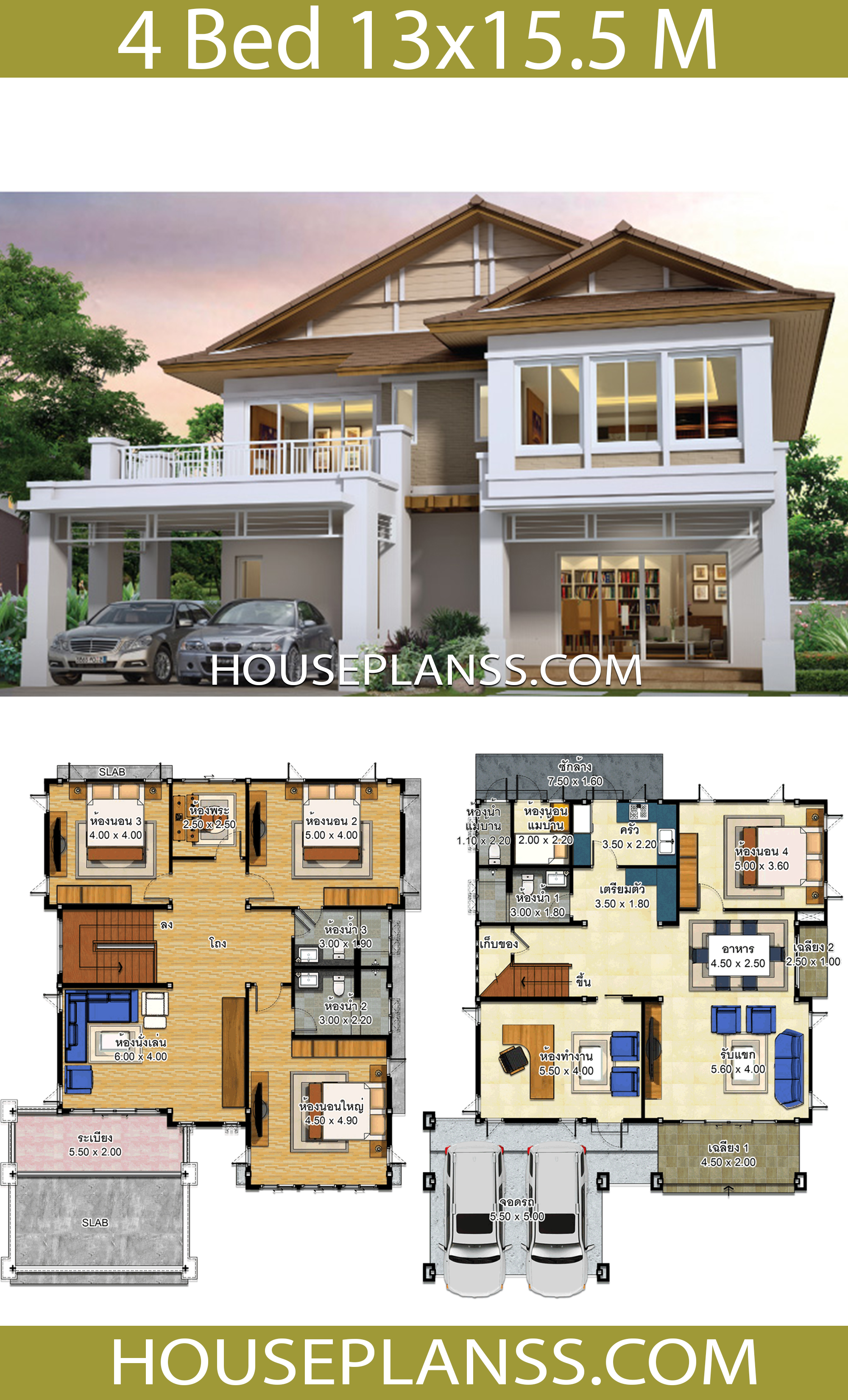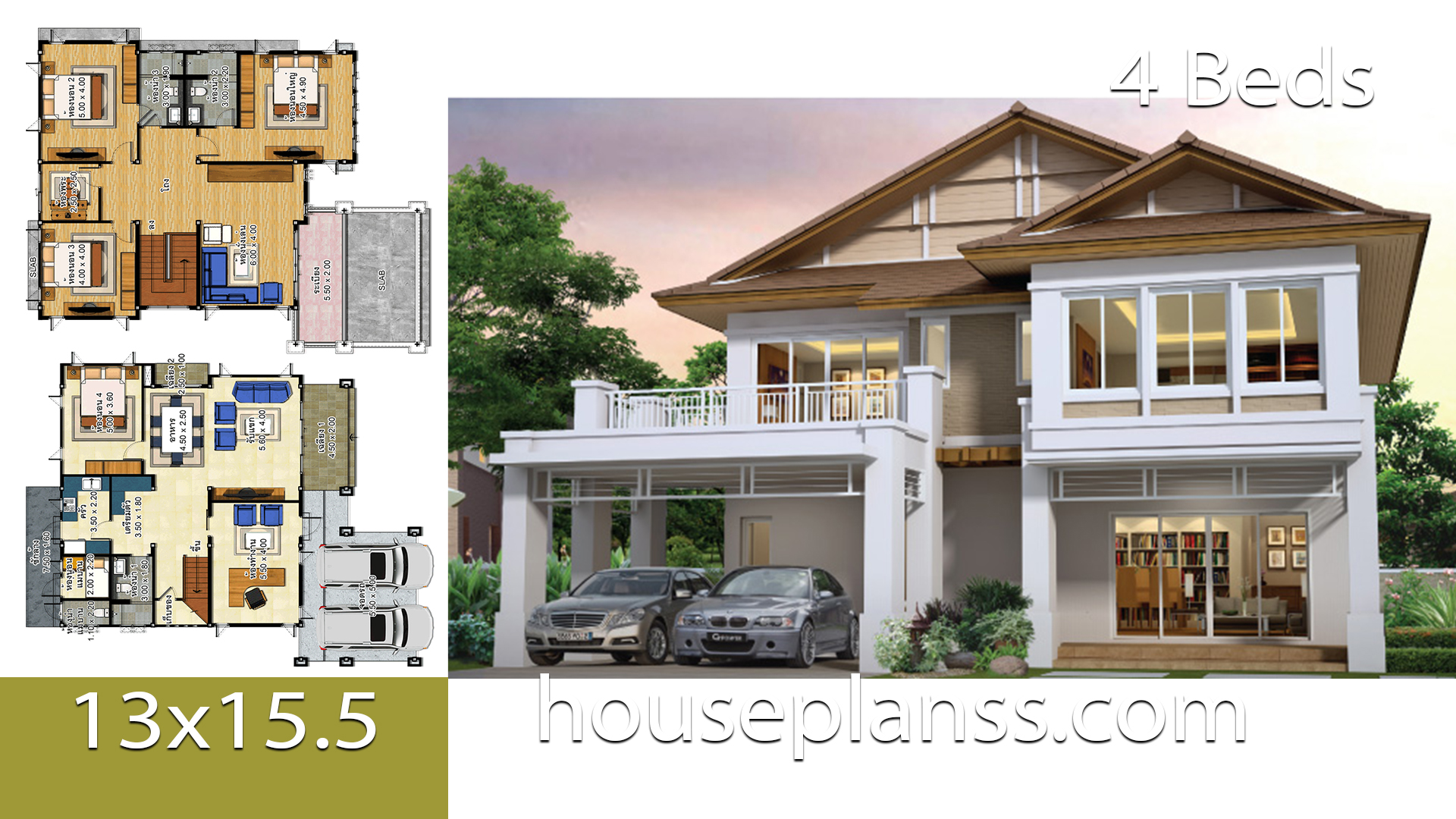 Buy the house plan above:
This is a PDF Plan available for Instant Download.
Building size: … feet wide, … feet deep …. Meters
Roof Type: ….. roof (Concrete cement, zine, cement tile or other supported type)
Foundation: Concrete or other supported material
For the reverse plan, please see other Model.
PLANS INCLUDE:
Footing, Beam, Column Location plan Exterior / Interior wall Dimension Plan Roof Beam Plan Roof Plan Elevations plans 4 Cross Section plans Ceiling Lighting location Plan
You are purchasing the PDF file for this plan. Print it out whenever you like, as many times as you like. Plan prints to A4 paper.
CUSTOM PLANS:
Unfortunately I'm unable to do custom plans at this time.
DISCLAIMER:
These plans were produced by myself and were not prepared by nor checked by a licensed architect and/or engineer.
I do not represent nor imply myself to be a licensed architect and/or licensed engineer.
Enjoy these plans but use them at your own discretion.
Delivery Instant Download
Your files will be available to download once payment is confirmed. Here's how.
I don't accept returns, exchanges, or cancellations.
But please contact me if you have any problems with your order.
Your could Reach Us: Personal FB
Facebook Page: Sam Architect
If you think this Plan is useful for you. Please like and share.
In link download -Ground floor, First floor, 3d photo -Sketchup file -Autocad file (Layout plan)
We give you all the files, so you can edited by your self  or your Architect, Contractor.
WHAT'S INCLUDED IN THESE PLANS?
Each plan set is drawn at A4 scale and includes the following drawings:
Elevations: Shows the front, sides, and rear, including exterior materials, trim sizes, roof pitches, etc.
Main Floor Plan: Shows placement and dimensions of walls, doors & windows. Includes the location of appliances, plumbing fixtures, beams, ceiling heights, etc.
Second Floor Plan (if any): Shows the second floor in the same detail as the main floor. Includes second floor framing and details.
Foundation or Slab Plan: Floor and Deck Joist Sizes, Spacing and Direction, Rough-In Plumbing Location (if applicable), Mechanical Equipment Locations (if applicable), Electrical Locations (if applicable)
Roof Framing: Shows roof outlines, All Beam and Header Heights and Locations, All Hips, Gables, Ridges and Valleys.
Section: Shows a cross-section of the home. Shows Floor Joist Size and Spacing, Floor-To-Floor Heights, Non-Typical Plate Heights Indicated
Electrical Plan: A schematic layout of all lighting, switches and electrical outlets. (Location only)
Typical Wall Section and Cut-through Section